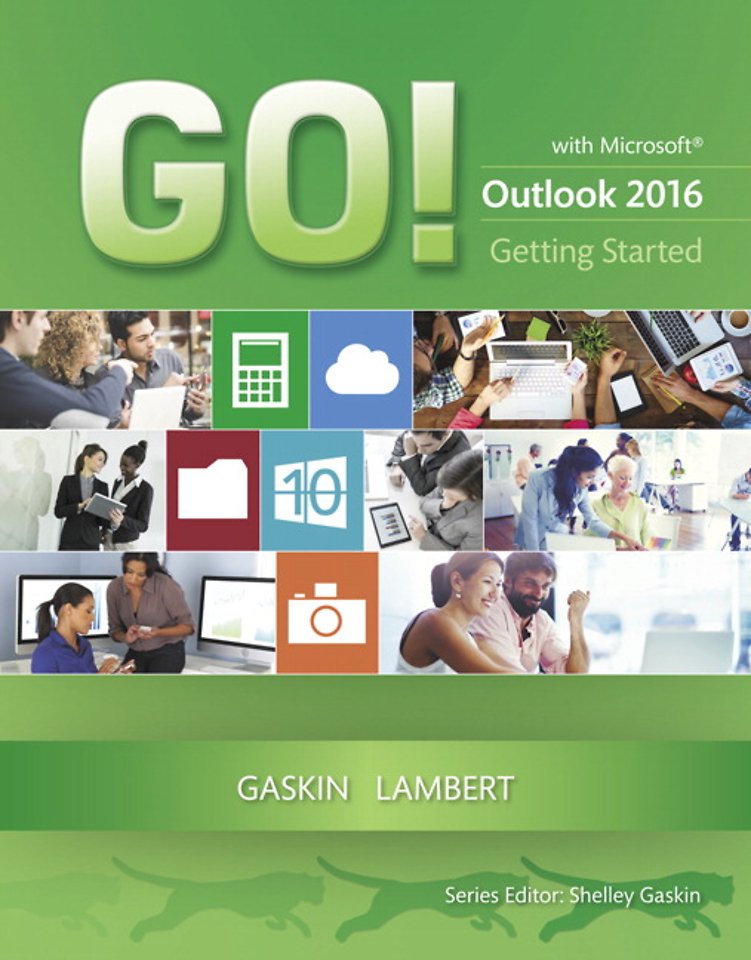 Shelley Gaskin, Joan Lambert
GO! with Microsoft Outlook 2016 Getting Started
Paperback
Engels
2016
9780134497075
Verwachte levertijd ongeveer 8 werkdagen
Samenvatting
GO! with Office 2016 Getting Started is an Introductory text that offers a chapter on core Office 2016 features, and then one chapter for each of the four primary applications that introduces students to the basic features of each.  Using the scenario-based instructional projects students learn the basics and then apply them through mastery, problem-solving, and critical thinking projects. 
 
In today's fast-moving, mobile environment, the GO! with Office 2016 series focuses on the job skills needed to succeed in the workforce. With job-related projects that put Microsoft Office® into context, students learn the how and why at the moment they need to know, all in the appropriate Microsoft procedural syntax.
 
For Office 2016, the hallmark guided-practice to skill-mastery pathway is better than ever. Students have many opportunities to work live in Microsoft office to apply the skills they've learned. In addition, these learning objectives are presented in project-based scenarios that prompt students to prove mastery in the context of real-world application.
 
MyITLab for this text provides students and instructors with access to the eText, chapter quizzes, testbanks, and other instructor resources.
Specificaties
Uitgever:
Pearson Education
Lezersrecensies
Wees de eerste die een lezersrecensie schrijft!
Inhoudsopgave
Project 1A Manage Email
Objective 1. Start and Navigate Outlook
Activity 1.01 Creating a Mail Profile in Windows
Activity 1.02 Configuring Outlook to Connect to an Email Account
Activity 1.03 Exploring Outlook
Objective 2. Send and Receive Email
Activity 1.04 Configuring Outlook for Sending and Receiving Messages
Activity 1.05 Creating and Sending a New Email Message
Activity 1.06 Importing Messages to the Inbox
Activity 1.07 Opening, Navigating, and Closing an Email Message
Activity 1.08 Viewing and Opening a Message Attachment
Activity 1.09 Replying to an Email Message
Activity 1.10 Forwarding an Email Message
Activity 1.11 Sending a Message with an Attachment
Objective 3. Manage Email
Activity 1.12 Marking Messages and Formatting Text
Activity 1.13 Using the Spelling Checker
Activity 1.14 Modifying Message Settings and Delivery Options
Activity 1.15 Sorting Inbox Messages
Activity 1.16 Printing Messages
Activity 1.17 Deleting Messages
Activity 1.18 Using Outlook Help and Restoring Outlook Email Defaults
Project 1B Manage Contact Records, Tasks, and Appointments
Objective 4. Create and Edit Contact Records
Activity 1.19 Importing Contact Records into Your People Module
Activity 1.20 Creating and Viewing Contacts
Activity 1.21 Editing and Printing Your Contact List
Objective 5. Manage Tasks
Activity 1.22 Creating and Pring a To-Do List
Objective 6. Manage a Calendar
Activity 1.23 Exploring the Calendar
Activity 1.24 Scheduling Appointments
Activity 1.25 Printing a Calendar
Objective 7. Create a Free Email Account and Use Windows Mail
Activity 1.26 Create an Outlook.com Email Account
Activity 1.27 Use the Windows Mail App