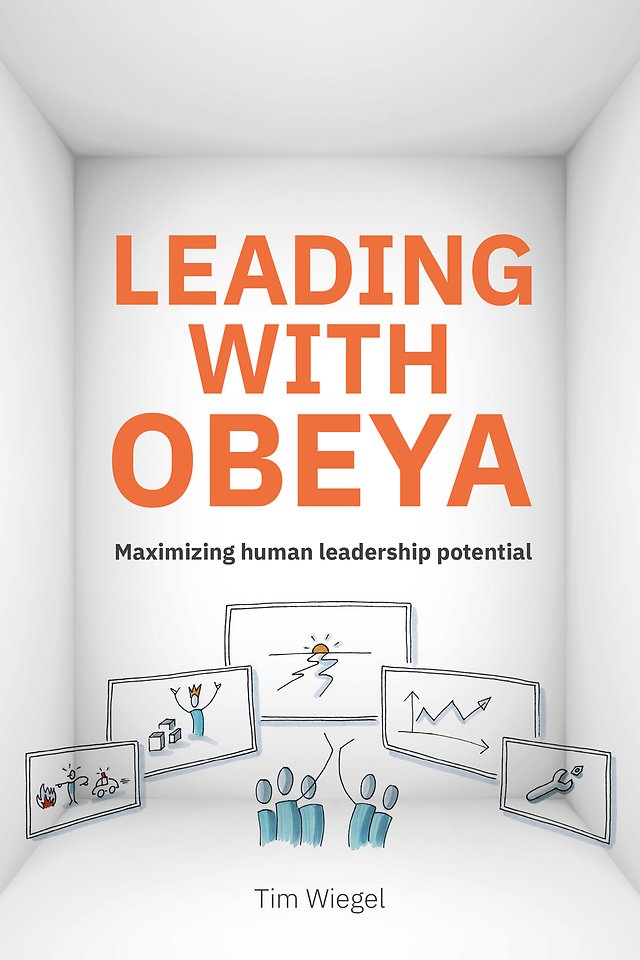 Tim Wiegel
Tim Wiegel is a dedicated Obeya coach who has witnessed firsthand the breakthrough changes within teams, when strategy leads to meaningful action and performance.
Meer over Tim Wiegel
Tim Wiegel
Leading With Obeya
Maximizing human leadership potential
Paperback
Engels
2020
9789462763326
Verwachte levertijd ongeveer 2 werkdagen
Samenvatting
In 2014 when Tim Wiegel was introduced to the concept of Obeya, pieces of a puzzle started falling into place. The Obeya (Japanese for 'big room') is a physical space where visual management is used to align operational teams and leadership in their efforts to translate strategy into meaningful day-to-day work and results. Toyota started using Obeya during the development of the Prius in the 90's. Both the car itself and the way it was developed were a huge success from a project management perspective. A growing number of companies and teams are learning about the advantages of working with Obeya in industry, consumer goods, IT, finance, telcom, healthcare, government and ngo's.
Using Obeya not just for a project, but to lead the organization itself is the answer to a much needed alignment between leadership and operational teams. It helps develop the ability to have meetings that create meaningful context and avoid distractions such as bias, ego and over-complexity. When used throughout the organization, it supports the development of a systematic approach to leadership that enables consistent, coherent and effective decision-making. In search for cause-and-effect under the umbrella of a committed purpose and clarity on strategic direction, the systems-thinking approach of Leading With Obeya helps teams move from fire-fighting to improving the performance of their organizational system sustainably.
Working with Obeya is a way to maximize your human leadership potential. Leading With Obeya is the first comprehensive book about how to do it right. Tim Wiegel is a dedicated Obeya coach who has witnessed firsthand the breakthrough changes within teams when strategy leads to meaningful action and performance. He aims to drive development of community knowledge of Obeya with the Obeya Knowledge Network, involvement in the Obeya Association and regular blogposts at ObeyaCoaching.com
"New ways of visual working has emerged considerably in the last few years. Obeya is a philosophy that can help you to understand how you can benefit from a visual language in your day to day business work. Visual thinking and doing is here to stay. Leading With Obeya is an engaging read to making the transition from traditional to visual management possible." - Patrick van der Pijl, CEO Business Models Inc., speaker, author of Design a Better Business and Business Model Shift, producer of Business Model Generation
"Keeping an overview and the ability to steer when it gets big and complex in fast and dynamic environments, how do you do that? Obeya offers a solution and its practical value has been fully demonstrated in recent years. But how do you set up a good Obeya and how do you effectively introduce this tool into an organization? With his book Leading With Obeya, Tim Wiegel has succeeded in creating a book that offers many answers, but above all shows giant practical experience. The examples provide guidance, the approach gives direction, and the setup is super practical. In short: highly recommended!" - Rini van Solingen, speaker, professor at Delft University of Technology and author of How to Lead Self-Managing Teams, Formula X, The Power of Scrum, Scrum for Managers and The Responsive Enterprise
Specificaties
Verschijningsdatum:
29-10-2020
Over Tim Wiegel
Tim Wiegel is a dedicated Obeya coach who has witnessed firsthand the breakthrough changes within teams, when strategy leads to meaningful action and performance. He has over ten years of coaching and consulting experience, working at banks, public services, healthcare, government, industry and telco companies. Recognizing there was a deeper problem to many of the projects he was asked to do, he started his learning journey on Lean and Agile ways of working in 2012. But things really clicked when he learned about Obeya at the 2014 Lean IT Summit in Paris. Since then, he studied, experimented and helped teams get started with Obeya, from start-ups to boardrooms. Tim has witnessed many teams make a remarkable claim: "Now we cannot imagine how we used to manage our organization without Obeya". Leading with Obeya builds upon the broad spectrum of experiences and learnings throughout Tim's career, providing a common-sense approach for leadership teams to make a difference in this world. Tim leads up a coaching network that provides training and coaching at ObeyaCoaching.com and drives a growing community of people interested to lead their organization with Obeya.
Andere boeken door Tim Wiegel
Inhoudsopgave
Table of contents 6
Foreword 9

Part I:
Introducing Obeya and the Leadership Reference Model 14
What is Obeya? 16
What you should know before you get started 22
Leading with Obeya - Reference model 28
What does an Obeya look like? 33
How does Obeya work in practice? 34

Part II:
Why Obeya is relevant for leading organizations 43
The leadership challenge 44
Obeya is a means to execute strategy, but what is strategy exactly? 45
Reason 1: Complexity of organizations 50
Reason 2: Your brain (and everybody else's) 53
Reason 3: A century of misapplied management philosophy 59
Reason 4: Neglect of the leadership system 64

Part III:
Principles of seeing, learning and acting together 75
Systems thinking & Accountability 79
Share context & problems visually 85
Develop People 91
Rhythm & Routine (kata) 96
Go & see 111
Keep improving 114
Cascade & Connect 124

Part IV:
What's on the walls – five visual areas, eight hours a week 131
Five areas for each aspect of strategic leadership 133
Two examples of Obeya layouts for two teams in The Bike Factory 135
Lead Successful Strategies 138
Drive Performance 150
Deliver value 163
Act & Respond 178
Solve Problems 183

Part V:
Getting started - Transforming your leadership system 191
Step 1: Approach agreed 193
Step 2: Obeya Explained 195
Step 3: Commit 204
Step 4: Set the stage 210
Step 5: Refine the information 216
Step 6: Starting the routines 218
Step 7: Continuous improvement 224
Coaching and facilitation 224
Virtual Obeya and remote collaboration 229
Finally, some tips from the trenches 233

Appendices
A final word and thanks 241
Glossary 245
References / endnotes 249
About the Author 255
Aanbevolen live events...
donderdag 02-11-2023
Collegereeks
Mensen die dit boek kochten, kochten ook...